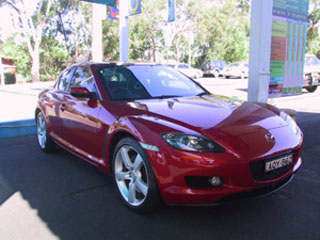 We are family owned and operated business and pride ourselves on ensuring our customers get the best experience from our service both in our car wash and our newly renovated cafe.

We understand the importance of ensuring your car is treated with the utmost care, our whole team is focused on providing the best service to all our customers and all cars are fully inspected by our senior staff prior to being handed over to their owners.

We look forward to developing a long term relationship with you and your car and would like you to feel comfortable in knowing that your car will only ever be handled by experienced professional staff. A lot of our business is referral and we have customers who travel from long distance to get the personalised service from Lugarno Cafe Carwash.

While you are waiting for your car you can sit back and relax in our newly renovated cafe. You can read the paper, watch television, connect into our free WIFI service and enjoy the fine food and selection from our CAFE
We would like to thank everyone that has been supporting us  
This has enabled us to keep some of our staff on payroll during this difficult time. 
Temporarily Closed Monday & Tuesday
At this stage we will continue to operate Wednesday to Sunday
We open at 8 am but may close earlier on some days due to weather or slow business  (Please call us if you wish to confirm (95840353) 
I would like to assure you that if you do come in we are extremely vigilant in our sanitation.  I think you would be hard pressed to find any car wash in the vicinity that can match us in this area. 
If you wait on site for your car wash we practice social distancing. 
We offer a free antibacterial clean for interior touch surfaces of your vehicle using Seed Organics' Coronavirus treatment which is a fully approved sanitiser currently used by Sydney Rail.
This will be done on every wash that includes an inside clean
TERMS & CONDITIONS
Conditions of Entry into Car Wash
By entering into and remaining on these premises, you agree to be bound by these terms and conditions. If you do not accept these conditions, please leave these premises immediately.
To ensure that your property is kept safe please remove all valuables from your vehicle prior to leaving it with one of our attendants.
LCC will abide by its obligations pursuant to the Australian Consumer Law, and these terms and conditions should not be taken to limit those obligations.
Other than as provided for in the Australian Consumer Law, LCC expressly disclaims liability for any loss, damage or injury whatsoever which is suffered or sustained in connection with your participation in or making available your vehicle for the provision of car wash services.
LCC will carry out all due care to provide our customers with the best possible service. All products used to clean polish and wax the vehicle are of the highest quality sort from manufacturers that supply the motor trade in Australia, Asia, America and the UK. Thus no responsibility will be taken by LCC in the case of damage to the customer's vehicle.
You indemnify members of the LCC against any liability, injury, loss or damage which may be suffered, incurred or sustained arising out of, relating to, or in any way connected with, any act or omission (including negligence) by You, your vehicle or Your breach of these terms and conditions.